Friday, July 08, 2005
Hershey's Chocolate World, Pennsylvania
Walking into Hershey's was a chocoholic's dream come true. The chocolate aroma was getting stronger as we came closer to the gates of Hershey's chocolate world. Our excitement for what droolicious treasures the chocolate world beheld inside was beyond control. Okay, maybe the chocolate world didn't come out exactly as I pictured i.e. perpetual aisles full of giant hyrshey kisses, candy bars and all sorts of other candies that I could think of for free, but a whole section was devoted to candy (I had to be dragged by the hair out of there) and the rest to souvenirs. At the chocolate tour, I was amazed to see all the effort it takes to make a single chocolate bar, my love for chocolate has tripled since then. We were also greeted with piles of "cased" Hyrshey kisses and Candy bars. My stomach was doing somersaults at the end of the tour, if I didn't get that free candy bar at the end.. I would have literally fainted out of chocolate starvation. We did a whole lot of souvenir and chocolate shopping at those little shops on the way to the Hyrshey Amusement Park and kept ourselves filled with twizzlers, jolly ranchers, kisses, hershey's bar and reeses all day. Hershey Amusement park was like any other Amusement park e.g. Six Flags or Cedar Point etc, but what set it apart was the whole chocolate and candy theme throughout the park.. for e.g. you have to be a jolly rancher (60 inches or above) to go on an aggressive thrill ride; a kisses minature for the merry-go-round etc. Me, Bunny, Shani and Bushi "The Chaar Pagal" as some call us, went on all the aggressive thrill rides the park had to offer. The Storm Runner and Sidewinder were the only ones that got my heart to jump up to my throat. At certain points in the ride I saw myself looking up at the sky and my feet floating in the air. After twisting through loops, curves, twists, dips and major drops at a speed of 80 something miles an hour without a hiccup the storm runner finally left us at peace. The sideswindler had some of the steepest loops Ive ever been on, to make matters more worse it goes backward after a certain point so you have no clue what to anticipate. Even though those rides almost gave me a coronary, I will still happily go on them again. The Hershey water rides got us completely drenched (especially tidal force) and we roamed the rest of the hershey park with a trail of water behind us. Oh it was a day full of fun and chocolate. The SUWEEETEST place on earth!
storm runner
side winder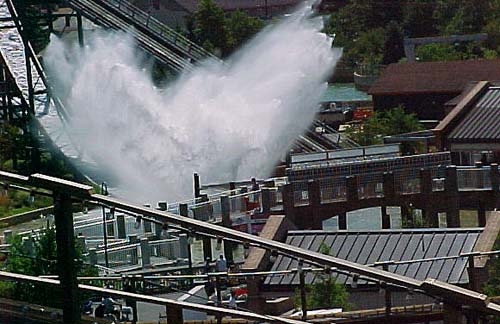 This is Tidal Force, one of the tallest splashdown boat rides in the country.
Yes.. I've been under that splash.. twice!
Sui Generis at 2:41 PM
Ciao!
About moi
I am loud and obnoxious around those who know me. My friends call me "dangerously" positive as I am usually not able to see the "negative" side of things. Ever. I like to laugh and live life to the fullest and don't understand people who can't. I have lived all over the world. My Pakistani background, my American accent, my Irish hospitality and my Iranian appetite all blend pretty well to shape who I am. I cant help but notice that how similar I am to everybody else, yet how absolutely SuiGeneris.
The Say of the Day
Make Chai, Not War.
In My Ipod..
Lifehouse, Red Hot chilli Peppers, Coldplay, Greenday, Snow Patrol, Sting, Maroon5, Keane, Athlete, Weezer, Yellowcard, Enya, Jet, Foo Fighters, Oasis, Killers, Good Charlotte, Bjork, Linkin Park, Counting Crows, Muse, Incubus, Duran Duran, The Verves, Bryan Adams, All-American Rejects, Strings, Fuzon, Vital Signs, Arash (so many more to add.. )
Currently Reading/Read..
Cat's Cradle - Kurt Vonnegut
A Tale of Two Cities - Dickens
Karography - Kamila Shamsie
A Confederacy of Dunces - John K. Toole
Damien - Herman Hesse Madame Bovary - Gustav Flaubert
Fav Authors
Kurt Vonnegut, James Joyce, Leo Tolstoy, Dan Brown, H.L.Mencken, Dickens, Jane Austen, Bronte, J.K. Rowling
Speak up!
Omnium-Gatherum
The Blogship
History
Archieves
Gracias!