Tuesday, June 28, 2005
Niagra Falls
For hundreds of years people have struggled with words to describe the emotion, passion and the beauty they felt as they stood there gazing at what is now known as the one of the modern wonders of the world. The Niagra Falls was a site to behold. It's not the height of the falls but the width that mesmerizes me, and I consider myself extremely lucky to not only behold that site but to experience it. It was such a memorable trip, a trip that I would remember for years! The highlight of my three week vacation. The first time my eyes fell upon the great wonder it was night time; the American falls were illuminated with colorful lights coming from canada's side. Red, Yellow, Purple, Green the colors kept changing and changing along with them the expressions of the captivated tourists. I stood there on the end of the observation tower with my cousins and bunny exhilarated by the intensity of pressure of the water gushing down on the rocks, remembering about how worth it would have been for all the daredevils who jumped of the Niagra falls just to experience that transcendent moment. I felt like doing that right there myself. The next day, I fell so desperately in love with the horseshoe falls and to my extreme amazement I got so close to the falls on that maid of the mist boat, I could barely contain the excitement I felt and joined the rest of the crazy tourists in blue raincoats yelling and screaming with joy on top of our lungs. Because we stood so close to the brink of the ship, all of us literally took a little shower (we flung our raincoats away) in the horseshoe falls. Oh how beautiful it was! A little paradise. The 8 hour drive from delaware seemed so worth it when walked on the trail of the "cave of the winds" up on the hurricane deck on the bridal fall. A part of the bridal falls, showers on the hurricane deck with extreme pressure and intensity that makes you forget even yourself for however long you stay under it. You can choose to take a public shower with your raincoats and clothes on or you can chicken out; usually people chicken out and make the biggest mistake of their lives. For us, we were not born with the chickening-jeans and chose to remain on the bridal falls as long as we could on the first tour and then we joined the second tour group (something we are not supposed to do) and repeated the breathtaking shower and stayed under the bridal falls until we were literally kicked out. It was all so worth it! So absolutely amazingly cool! Other things we did the rest of the day was visiting the Niagra Aquarium, the discovery center, wax museum of horror, theater; hanging around the little niagra town and doing loads of souvenir shopping! I'm definately coming back here again!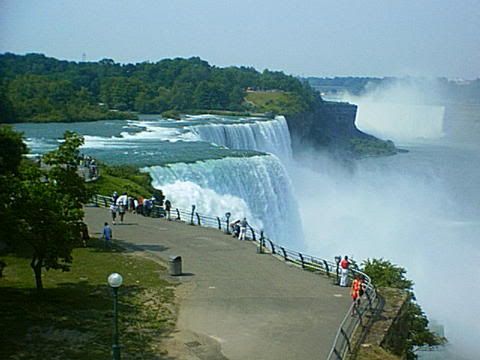 My first picture of Niagra from the Observation Tower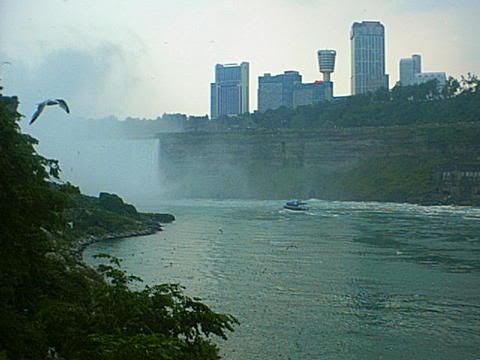 the little boat that took us into horseshoe falls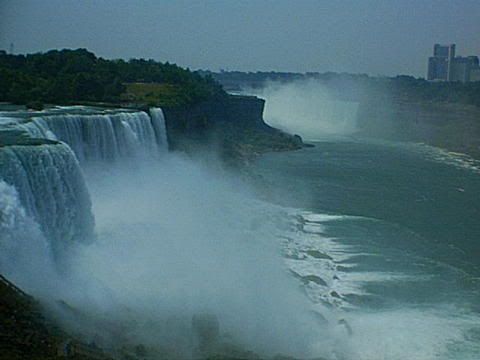 The American fall - breathtaking isn't it?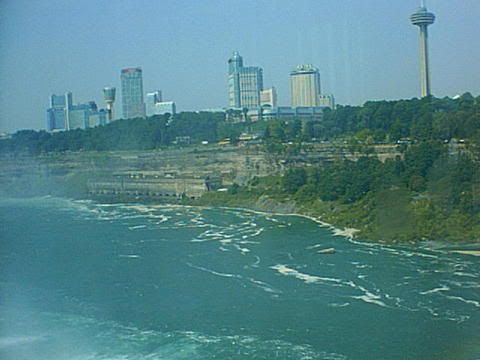 A picture from the "no mans water" of the canadia side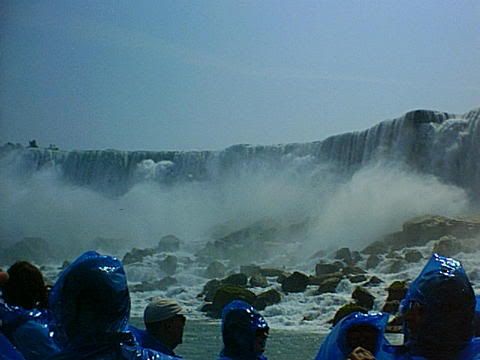 On the maid of the mist boat that took us almost right into horseshoe falls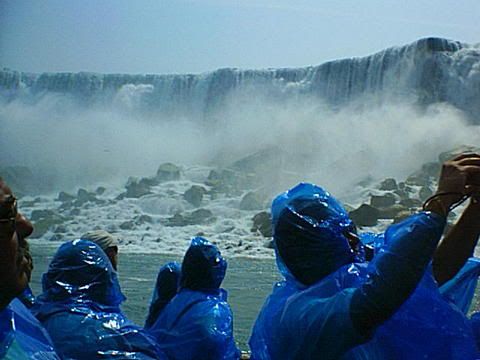 here take another look at the marvelous canadian/horseshoe falls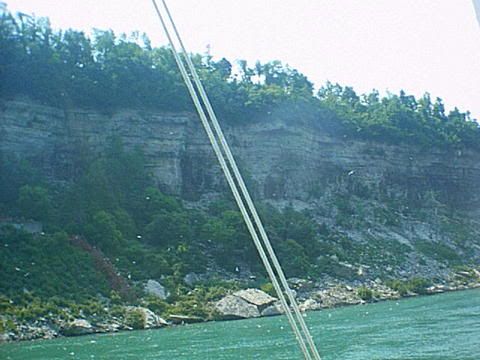 a wilderness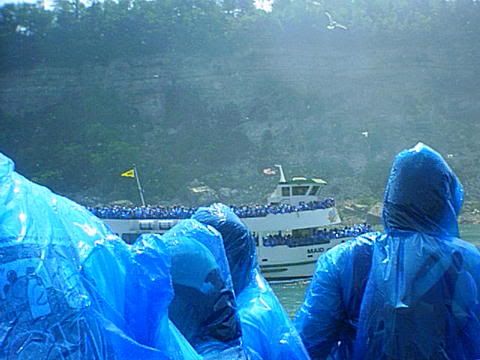 fellow maid of the mist boat
bunny staring at the salamanders at the niagra aquarium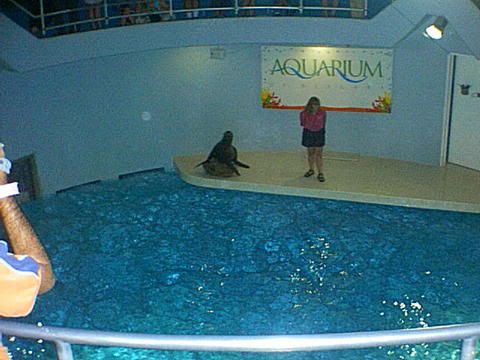 the sea lion show!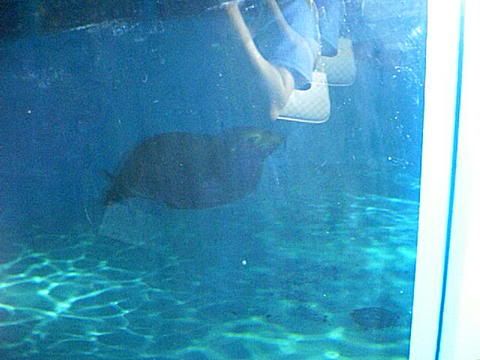 another look at Mr.Show-off
Miss Haseena Zulfoon Wali Janey Bahaaaaar... (bushi) drying her hair
after the soaking public shower under the bridal falls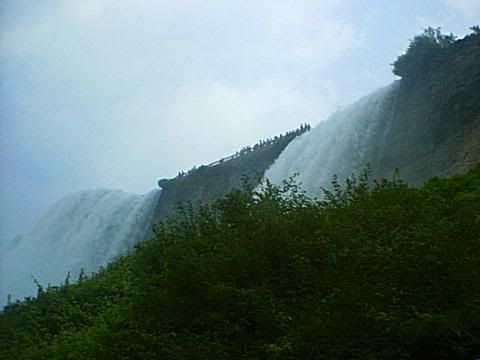 a part of the American falls and the bridal fall right next to it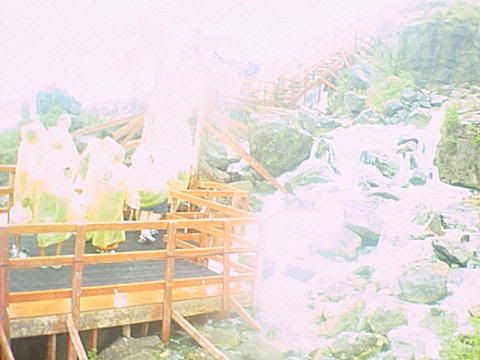 a trail that leads to the hurricane deck - a place where you can literally take a
public shower under the bridal falls
Sui Generis at 7:33 AM
Ciao!
Monday, June 20, 2005
Hallalujah VACATION!

Heading for my three week trip to New England and Canada in just a couple of hours. The suitcases are packed, my cell and portable DVD player all charged up (incase the flight doesn't have a TV), my magazines all ready and extra junk food all packed incase my baby brother (who is even taller than me now) gets hungry and starts acting hulk-ish. Yeah, he is a tag along in my wonderful trip. My parents wouldn't even THINK of letting me go without the annoying, hulking and always hungry little "bodyguard". What bugs me is he is only 12 and already 5'7. The kid is heading on to his goal of standing shoulder to shoulder beside Shaquille O' Neal one day. (Inshallah). Anyhow, where was I? Oh yes, the glorious trip! How did it all happen? Well, me and my sweetheart nutty Bushi were having our regular 3 hour long girly chats on the phone one day, that all of us a sudden we came up with a brilliant plan to spend our summer togather. Absolutely Euphoric, we called up Shani, my other nutty cousin with who we used to do the monkey walk with only 6 months before her marriage, she as always, was delighted and made up a schedule of how we are going to spend our delightful 3 weeks. Her husband, would remain our faithful "chaffeur" during our pleasent journey.

First Week:
Arrive to Delaware on Tuesday the 21st. Bushi has decided to spend the day shopping and giving me a makeover from my "Oh so hideeeeous, t-shirts and ripped jeans, and buying some nice lovely GIRLY clothes and some makeup and even a haircut and highlights and... " Other plans that week include horseriding in the farms of delaware, a movie marathon day, more shopping and sightseeing in delaware and learning how to cook desi food (mom's secret request to Bush). Weekend we head to see Shani and Pervez bhai in NJ.. and with them we will head to Canada and visit Chinatown in Toronto, Niagra falls and enjoy every possible restaurant we come across.

Second and Third Week:
Bushi and Shani officially take 2 weeks off from their jobs and we go touring around Baltimore, Maryland; Hyrshey's Park, Pennsylvania; The Quaker/Amish civilization tour, Pennsylvania; Washington D.C tour; Boston (a surprise); shopping and hanging out Time's square NY; doing something in NJ (still a surprise); watching 4th of July fireworks; and many other plans the sisters have come up with that I don't have a clue of! All I know is that in our schedule for the 2nd and 3rd week there is not even one day where we relax, kickball and chill.

Making my parents agree to send us turned out to be really easy. Here's a tip; if you ever want to ask for something big.. lure your parents with your report card with straight A's. They'll melt into a puddle of joy and grant you ANY wish (as long as its not smoking pot). They regret dreadfully as the house is going to be very lonely without us. I have called up my friends and asked them to keep my parents company, you know just show up one day "accidently" with pizza and keep 'em company. If I wasn't going to my khala's house, I too would get terribly homesick. What am I talking about? I'm going to miss home alot.

Sui Generis at 1:19 PM

Ciao!




Sunday, June 19, 2005
A silly poem

Yeah I wrote this silly Orlando Bloom poem for this one website thingy. Dreadful as it is, it happens to be special as it happens to be my wait.. 3rd, no 4th poem written by me in my life. My first ever poem was on a leprechaun and it went like "Aye, me a fine ol' leppy with me pot o' gold beside de rainbow." I'll post the rest if I find it. The 2nd and 3rd were forced for my english class and because they were so pathetico, I "purposely" lost 'em. So behold ye all:


Fell in love with those crystal blue eyes,
those golden hair, that gorgeous elfen
smile, when he sliced up those ugly orcs
with his bow and arrow and the fellowship of
Aaragon, Gimli and Frodo

I saw his career bloom
as I watched him, mesmerized, with the
swashbuckler Jack Sparrow, ready to walk
the plan for his dear Elizebeth as the duo
set the ugly cursed pirates of the
Black Pearl to their doom

Silly girls of 16, sitting behind the
school's old chestnut tree
giggling, gossiping and fighting over who
should be the blessed one to marry Mr. Bloom
and at the end compromised to commit
polygamy

Oh sweet fickle memories,
how distant do they seem!
For Orlando Bloom, dude, you are now
HISTORY as now I'm "in love with idea of love"
with Jude Law.

(Kidding about the Jude Law part)

Sui Generis at 2:48 PM

Ciao!




Saturday, June 18, 2005
Little Women

A very delightful and charming book! Pride and Prejudice lovers this should be your next read! Written by Louisa May Alcott in 1867, the book still remains an American favourite even today. The story is about the March sisters, Meg, Jo, Beth and Amy and their coming of age. I can go on forever about this book but I don't want to spoil it for anybody who plans to read it.

After being completely in love with the book, I decided to watch the Little Women 1949 version (with Elizebeth Taylor) on TCM. The movie wasn't atall as charming as the book. The order of the scenes in the movie were also messed up and it also left out some very important details of the book. However, it was a great movie to watch if you are not particular about the details. I still have to get my hands on Little Women 1994 version with Winnona Ryder, Christian Bale and Kristen Dunst.




Sui Generis at 12:04 PM

Ciao!




Sunday, June 12, 2005
The joy of summer!

Spending the day in my PJ's, eating nothing but junk food, listening to my favourite music, talking to my friends on the phone all day, playing crazy out of tune nonsense songs on my guitar, reading cheesy romantic novels and ending the day with a classic thriller that leaves you curled shuddering all night. Oh, can life get any better?

Sui Generis at 10:47 PM

Ciao!




Saturday, June 11, 2005
Done with my last exam of the year, the ACT, today.

Freeeeeeeeeeeeeeeeeeeeeeeeeeeeeeeeeeeeeeedoooooooooooooooooomm!

Oh the smell of freedom. So invigorating. Filling up my senses. Making me drunk with happiness..

Sui Generis at 12:44 PM

Ciao!




Wednesday, June 08, 2005
"Since everybody is related to Adam and Eve, we are related to everybody. You know what that means? Since the worlds population is 6 billion, we have 1 billion aunts, 1 billion uncles, 1 billion gradma's, 1 billion grandpa's, and the rest of the 2 billion, are cousins. Yup, one big happy family. " - Bunny/OB/bro.

See, it runs in the family.

Sui Generis at 1:53 PM

Ciao!




Wednesday, June 01, 2005
No I am not dead, neither was I hibernating.. the reason why I didn't blog in what.. 2 and a half months is because I was incapable of producing anything worthwhile. Everytime I would come to think about what to blog thousands of things will start zimming through my already crowded head and cause a brain-block. I would have so much to blog about that I'd leave it for tomorrow.. and that tomorrow wouldn't come till 2 and a half months. Heck, I even forgot that I even had a blog for a while. So what happened in the past 2.5 months? Here's a brief overview..


- Officially done with all my stupid AP exams and dying to figure out what I made on them. I don't even want to think about that I'll be taking 2x times the AP classes I took this year, next year.
- Done with the tennis season!! It wasn't brilliant .. but all our team made it to states. None of us ranked. The girl who won state was a freshman from this cowboy high school who'd been playing tennis since she was 4!! Makes me wanna work 3x hard in the summer. And you bet I will!
- I am again, penniless (not something new huh?). Damn those may birthdays! I have realized that I spent 3/4 of my money buying presents for people every month. Anyhow, my favourite May birthday was when all of us had dinner for Ashley's birthday in Applebees (oh deeeleecious food!) . My procrastination-genes kicked in and I arrived an hour later; when almost everybody had finished the food. However, I did make up for it at her house by keeping all the gang entertained by my randomness. We sang and danced to the killers in our pajamas. Cut the cake, ate junk food all night and played a very creepy game called Atmosphere. The game got very exciting when I was almost about to win (keyword: almost). At 2 am.. we started In Good Company .. the movie was so boring that almost half of us were sleep half an hour later. Actualy I don't think anybody got any good sleep because Ashley's 2 dogs and 2 cats were running around in circles in the living room where we were all trying to sleep. Since I was on the sofa.. rocky would come by and swish his tail on my face 3 times during the night.. and then I found that dog sleeping on top of me when I woke up. Grr. Atleast it was better than Vania, Lily and Ash's sleep.. who slept on the floor with the rest of the animals on top of them all night. Lindsey and Sarah were unable to stand up as they were curled up as a ball on the one seater sofa througout the night.
Oh pardon my digressions.. so where was I? Oh yeah..
I'm done with my junior year of high school!! YEAAHH BABY! that's right.. I survived my junior year in a new school quite wonderfully. If I get straight A's again this semester mom would finally give me my well deserved 100$ for new clothes. A girl can never have enough clothes you know.

I still don't know what my plans for summer are. All I know is that I have my SAT's and ACT's in a week. Right now I am at my cousin's house for a week watching over my grandpa while they hulala in london. My grandpa is a very sweet guy, he is amnesic so whatever I say to him he always forgets an hour later. So I never really run out of things to talk to him about .. hehe. Anyhow, I gotta go make tea for him the 4th time today! Sometimes I wonder that my only purpose in my life for my family is to make chai for them.. everytime I'd sit by an elder he/she would see in me a potential cup of tea. You probably should have guessed by now what's the one thing I detest with a passion.. chai.

Sui Generis at 10:17 AM

Ciao!



About moi
I am loud and obnoxious around those who know me. My friends call me "dangerously" positive as I am usually not able to see the "negative" side of things. Ever. I like to laugh and live life to the fullest and don't understand people who can't. I have lived all over the world. My Pakistani background, my American accent, my Irish hospitality and my Iranian appetite all blend pretty well to shape who I am. I cant help but notice that how similar I am to everybody else, yet how absolutely SuiGeneris.
The Say of the Day
Make Chai, Not War.
In My Ipod..
Lifehouse, Red Hot chilli Peppers, Coldplay, Greenday, Snow Patrol, Sting, Maroon5, Keane, Athlete, Weezer, Yellowcard, Enya, Jet, Foo Fighters, Oasis, Killers, Good Charlotte, Bjork, Linkin Park, Counting Crows, Muse, Incubus, Duran Duran, The Verves, Bryan Adams, All-American Rejects, Strings, Fuzon, Vital Signs, Arash (so many more to add.. )
Currently Reading/Read..
Cat's Cradle - Kurt Vonnegut
A Tale of Two Cities - Dickens
Karography - Kamila Shamsie
A Confederacy of Dunces - John K. Toole
Damien - Herman Hesse Madame Bovary - Gustav Flaubert
Fav Authors
Kurt Vonnegut, James Joyce, Leo Tolstoy, Dan Brown, H.L.Mencken, Dickens, Jane Austen, Bronte, J.K. Rowling
Speak up!
Omnium-Gatherum
The Blogship
History
Archieves
Gracias!