Sunday, July 24, 2005
the half blood prince
*spoiler alert*
Here's a helpful tip: neveeer ever ever put a bag of twizzlers beside you while reading any of the harry potter books. In my case while reading the half blood prince, at 12 pm I put a full new bag of twizzlers on my nightstand and the next time I looked at it at the end of the book, it was empty. Since one serving is 120 calories and there were ten servings, you do the math and add those additional g of fat. Still since it's a low fat candy, it probably didn't harm me as much as the bag of kisses while reading the fifth book. I don't even want to think about the calories. Ahh! Wait, I am supposed to talk about J.K. Rowling's sixth hp book: the half blood prince, not candy. I was furious when I first finished the book, wanted to sectumsemprize Rowling herself, but then I scrutinized and analyzed the details I figured it wasn't exactly that horrible. Rowling has changed her style, the hp series is getting darker, gloomier and very interesting. I am all excited about how complicated it is to kill Voldemort and how Harry might manage it in the last book without dumbledore to guide the way. Still I find something fishy about the way dumbledore died and the unexplained note to Voldemort with the mysterious intials R.A.B. I'm guessing Snape took the last Horcrux and destroyed it, but then I might be completely wrong and Rowling unpredictable as the book itself. I'm making a list of all the things I am all excited to find the answers to but might forget till the last book is released which is like what… aages from now. I'd be heading to college then.. and Harry would be quitting hogwarts and moving on to avenge himself. I was 12 when I read the first book, 16 when I read the 5th. It's like as I'm growing older, Harry is too at the same rate only he has the whole wizarding world to worry about. I'm proud to say that I'm a kid who grew up on HP books. I'll always remember how the little girl of 12 lost herself completely in a world full of witches, wizards, goblins, giants, ghosts and magic and never actually fully recovered. I have all the books in hardcover perched up on my shelf with those of Bronte, Austen and Grisham and they would remain this way even if I add to my collection more complex and non-fiction literature. Right now I only worry about when I might be able to add the last book my to collection to make it complete.
Sui Generis at 9:24 AM
Ciao!
Saturday, July 16, 2005
Overview

I thought I was the one of the most dangerously positive and optimistic people I knew. But I began doubting myself everyday I spent with Bushi. That girl is so cheerful, she can easily entertain even a wall. She can put the gloomiest grumpy person burst out laughing. Almost everyone in our family suffers from an infectous laugh or smile syndrome but Bushi is the extreme case, even just being around her for more than 2 seconds would make you smile.. I mean how many girls do you know play Abrar-ul-Haq songs on full volume with their car windows open while driving to work in a non-desi state like delaware? Or say something like "Comon lets make seikh kabob and lassi and watch videos of funny ali zafar songs" at 2 at night? Or go swimming in kurta and jeans at a beach? Or make biryani while doing bhangra and singing weird deewan patel songs to her hearts content? I mean I knew my cousin was nuts.. but she has even turned nut-ter in the last two years. And I just love her for that!




I was still getting used to Bushi when Shani (bushi's sister and a bigger nut) who took two weeks off from work and her husband, came to spend all her two weeks with us and I literally mean ALL of her two weeks. There was barely any sleeping, as that girl kept me up every night till atleast 5 am; talking. All three of us chatterboxes in one room for threee weeeks, it was almost impossible to go to sleep or do anything peaceful and productive for that matter. We talked about God-knows-what, from gay marriages to guys to chicken curry. All I did those three weeks was laugh and talk and travel around. I've not be so absolutely ridiculously silly in a while. The slightest silliest little things would set the house ringing with girly laughter, you know kinda like a smoke detecter only with a less annoying sound. Bunny treated the sister like he treats me, you know giving a "friendly punch" or starting pillow fights or putting his 50 kg arm around them, only they were left with bruises to brag about.



Ever seen me in a skirt?



Bush making biryani and me hanging around

I've never listened to that much Pakistani music as I did on those three weeks and I enjoyed listening to every single song from the really old ones to the new. Abrar-ul-Haq and Fakhir's Punjabi songs were translated as I'm the last person in the world who'll ever get Punjabi. We listened to Ali Haider and Strings all the way to Niagra (8 hours drive) and back. We listened to Ali Zafar, Najam Sheraz and Fuzon for a week straight. Junaid Jamshed songs were played every second day.. I sometimes have Rangeen, Saagar, Zalim Nazroon Se, Chaye Chaye and Dil Dil Pakistan playing even in my dreams!



Bunny taking a public shower



Shani driving us to Heryshey's

The girls also really know how to be well, very girly and turned me from a tomboy to a girl who actually likes to spend time straightening or curling hair, putting on make-up without making her face fall off, wearing those long in fashion frilly skirts and those huge-earlobe-stretching-earings and loving it! My dad failed to recognize at the airport when I was literally jumping up and down with both my hands up in the air ready to squeeze the heck out of him with my girly shirt and new look. I was a puddle of tears a day before leaving, and to make matters worse for me .. they threw me an advance b-day party. All the pictures came of me that day came out with soggy eyes and a rudolph nose. That night all of us snuggled up and had a good cry. I missed home terribly but I didn't want to leave.. I hate saying goodby's.

Now it's a day since I've returned and I'm to my everyday life: tennis practices, chem summer course, volunteering and packing for the new house we bought down the street. Mom and dad can't stop hugging and kissing us. I can't wait to see my friends and family and distribute all the souvenirs. It's good to be home.



Want some puriyan and tarqari?

I might have thrown my stack of t-shirts away and replaced them with "girly" shirts, skirts and bright colored shalwar kameez; I might have put aside my Greenday, Maroon5 and Coldplay for a while for vitals signs, fuzon and noori; and I might have planned to cook biryani once in a while (mom's ultimate dream come true); is it any wonder I have changed?

Sui Generis at 9:30 AM

Ciao!




Friday, July 08, 2005
Hershey's Chocolate World, Pennsylvania

Walking into Hershey's was a chocoholic's dream come true. The chocolate aroma was getting stronger as we came closer to the gates of Hershey's chocolate world. Our excitement for what droolicious treasures the chocolate world beheld inside was beyond control. Okay, maybe the chocolate world didn't come out exactly as I pictured i.e. perpetual aisles full of giant hyrshey kisses, candy bars and all sorts of other candies that I could think of for free, but a whole section was devoted to candy (I had to be dragged by the hair out of there) and the rest to souvenirs. At the chocolate tour, I was amazed to see all the effort it takes to make a single chocolate bar, my love for chocolate has tripled since then. We were also greeted with piles of "cased" Hyrshey kisses and Candy bars. My stomach was doing somersaults at the end of the tour, if I didn't get that free candy bar at the end.. I would have literally fainted out of chocolate starvation. We did a whole lot of souvenir and chocolate shopping at those little shops on the way to the Hyrshey Amusement Park and kept ourselves filled with twizzlers, jolly ranchers, kisses, hershey's bar and reeses all day. Hershey Amusement park was like any other Amusement park e.g. Six Flags or Cedar Point etc, but what set it apart was the whole chocolate and candy theme throughout the park.. for e.g. you have to be a jolly rancher (60 inches or above) to go on an aggressive thrill ride; a kisses minature for the merry-go-round etc. Me, Bunny, Shani and Bushi "The Chaar Pagal" as some call us, went on all the aggressive thrill rides the park had to offer. The Storm Runner and Sidewinder were the only ones that got my heart to jump up to my throat. At certain points in the ride I saw myself looking up at the sky and my feet floating in the air. After twisting through loops, curves, twists, dips and major drops at a speed of 80 something miles an hour without a hiccup the storm runner finally left us at peace. The sideswindler had some of the steepest loops Ive ever been on, to make matters more worse it goes backward after a certain point so you have no clue what to anticipate. Even though those rides almost gave me a coronary, I will still happily go on them again. The Hershey water rides got us completely drenched (especially tidal force) and we roamed the rest of the hershey park with a trail of water behind us. Oh it was a day full of fun and chocolate. The SUWEEETEST place on earth!



storm runner



side winder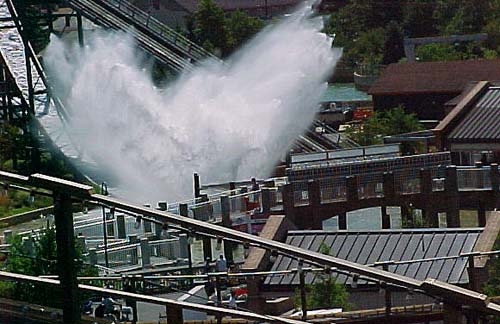 This is Tidal Force, one of the tallest splashdown boat rides in the country.
Yes.. I've been under that splash.. twice!

Sui Generis at 2:41 PM

Ciao!



About moi
I am loud and obnoxious around those who know me. My friends call me "dangerously" positive as I am usually not able to see the "negative" side of things. Ever. I like to laugh and live life to the fullest and don't understand people who can't. I have lived all over the world. My Pakistani background, my American accent, my Irish hospitality and my Iranian appetite all blend pretty well to shape who I am. I cant help but notice that how similar I am to everybody else, yet how absolutely SuiGeneris.
The Say of the Day
Make Chai, Not War.
In My Ipod..
Lifehouse, Red Hot chilli Peppers, Coldplay, Greenday, Snow Patrol, Sting, Maroon5, Keane, Athlete, Weezer, Yellowcard, Enya, Jet, Foo Fighters, Oasis, Killers, Good Charlotte, Bjork, Linkin Park, Counting Crows, Muse, Incubus, Duran Duran, The Verves, Bryan Adams, All-American Rejects, Strings, Fuzon, Vital Signs, Arash (so many more to add.. )
Currently Reading/Read..
Cat's Cradle - Kurt Vonnegut
A Tale of Two Cities - Dickens
Karography - Kamila Shamsie
A Confederacy of Dunces - John K. Toole
Damien - Herman Hesse Madame Bovary - Gustav Flaubert
Fav Authors
Kurt Vonnegut, James Joyce, Leo Tolstoy, Dan Brown, H.L.Mencken, Dickens, Jane Austen, Bronte, J.K. Rowling
Speak up!
Omnium-Gatherum
The Blogship
History
Archieves
Gracias!